Community Theatre in the Heart of Laurel, Maryland
508 Main Street in Downtown Laurel
Located in the middle of historic Laurel, the Laurel Mill Playhouse exists to bring live theatre to a vibrant and diverse community, foster a creative environment, and help local individuals nurture their talent. The Playhouse is the home of the Burtonsville Players, which has been providing community theatre to the quad-county area for more than 35 years. [More about us]
New Class: Introduction to Improv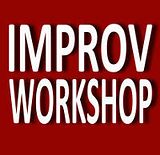 This Introduction to Improv class is excellent for actors or for those looking to be more comfortable onstage or in public speaking situations. It can help in your work and day to day relationships. The basics of improvisational theater will be taught in a small, supportive and relaxed class. [Read more]
Director Michael Hartsfield will hold auditions for The Tempest - Laurel Mill Playhouse Shakespeare Teen Theatre at the theatre starting on March 30, 2015 and ending on March 31, 2015 [More Information].
Announcements
Directors and playwrights: Put your talents on display at the Laurel Mill Playhouse. [Read more]
Donate or volunteer: The LMP keeps community theatre alive in downtown Laurel, through the tireless efforts of its volunteers and the generosity of its donors. Come join us!
by a Variety of Brilliant and Talented Authors
March 27, 2015 through April 12, 2015
Sunday matinees on March 29th and April 12 at 2:00 PM
There will be no performances the weekend of April 3, 4 and 5th (Easter weekend).
A one act festival performed by young adults. [More Information]



Buy Your Tickets On Line!
Book by Howard Ashman
Based on the film by Roger Corman, screenplay by Charles Griffithoans
April 24, 2015 through May 17, 2015
Sunday matinees on May 10th and May 17th. at 2:00 PM

The classic comedy horror rock musical, Little Shop of Horrors follows a hapless florist shop worker who raises a plant that feeds on human blood and flesh. The musical, based on the low-budget 1960 black comedy film The Little Shop of Horrors, features several well-known tunes. [More Information]



Buy Your Tickets On Line!
Click the image to download this poster [pdf]